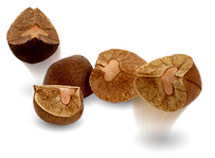 WE ARE NOW TAKING ORDERS DON'T WAIT ORDER NOW!
BEAN CARE! HOW DO YOU GET THEM TO JUMP?
THE SHAKE AND BAKE BEANDITO METHOD
PICK UP THE BEANS, SHAKE THEM GENTLY, THEN PLACE THEM IN THE SUN OR UNDER A BRIGHT LIGHT FOR 5-10 MINUTES. BE PATIENT. IT MAY TAKE A FEW MINUTES FOR THEM TO JUMP. REPEAT DAILY OR AS OFTEN AS NECESSARY TO MAKE THEM JUMP. YOU CAN SPRITZ THEM FROM TIME TO TIME WITH A LITTLE WATER. THEY CAN DRY OUT IF YOU LEAVE THEM IN THE SUN FOR TOO LONG.
SEE US ON THE NBC TODAY SHOW! CLICK THE LINK BELOW!
<iframe src="https://www.facebook.com/ video/embed?video_id= 10150767874940484" width="400" height="300" frameborder="0"></iframe>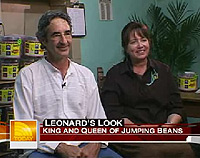 "WOW, DID YOU GET TO SEE THE KING & THE QUEEN OF THE JUMPING BEANS ON THE NBC TODAY SHOW WITH MIKE LEONARD"? IF NOT CLICK BELOW FOR THE CLIP! BE PATIENT THE COMMERCIALS TAKE FOREVER!
WHAT'S INSIDE???
This amazing little, live bean, the size of your fingernail, has been entertaining and fascinating both young and old alike for more than 50 years, proof enough that they are harmless, yet entertaining natural wonders. It is a member of the TORTRICADAE family. This family is somewhat of a curiosity. A moth, of the Genus and Species Larva, TINEOIDEA/ LASPEYRESIA SALTITANS lays its egg in the flower tree called EUPHORBIACEAE SEBASTIANA PAVONIANA, found only in Mexico. The flower then forms a seedpod around the moth egg. This seedpod serves as a temporary home for "JUMPING BEANDITO".
More>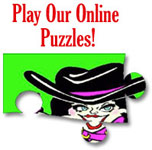 When the early May rains start, the seedpod matures, splits into three parts and falls to the ground. The egg turns into a caterpillar which then consumes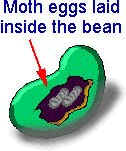 the seed inside. The jumping movements are the caterpillar's movements to get to the edible seed. Eventually, the caterpillar will spin a silk cocoon which causes more jumping. It will then go dormant for a short time. It is not dead. Instead, it is going through metamorphosis. It will turn into a tiny, harmless moth that does not pose any danger to either clothes, plants or humans. You can actually watch the small moth emerge. If you should be so lucky as to see a moth hatch, do not worry. It will not harm a thing and it hates the taste of clothes. The moth does not require food. Point it South and let it go, PLEASE!!!! A happy bean prefers to rest in a cool, dark place when it is not jumping. They also love to travel, so take them along in your shirt pocket. The warmth of your heart will make them bounce. Occasionally, they do like a little drink. So be kind and give them a light mist once a week. They are ideal pets since they don't need to be walked, fed or brushed. PS, They jump best to music!
Hey kids, play our online puzzles and test your skills.
Four different puzzles, one of each Beandito. Time yourselves and challenge your friends.
THE UNITED STATES DEPARTMENT OF AGRICULTURE APPROVES OF THE IMPORTATION OF JUMPING BEANS INTO THE UNITED STATES, STATING THAT THEY POSE NO DANGER WHAT SO EVER TO OUR PLANT LIFE, MATERIAL GOODS (CLOTHES) OR HUMANS, AND THAT THEY ARE NON-TOXIC.
POISON CONTROL CENTERS LIST THE BEANS AS HARMLESS, STATING THAT THE ONLY DANGER IMPOSED BY THE BEAN IN CASES OF SWALLOWING ONE, ARE FROM THE GERMS THAT MIGHT BE FOUND ON THE OUTSIDE OF THE POD, AS WITH ANY ITEM WHICH IS SWALLOWED.