BOX O'BEANS /GET ALL 4 CHARACTERS
10 BOXES + 1 GAME +1 POSTCARDS @ $15.00 / $2.00 ship USA / Foreign $8.00
20 BOXES + 1 GAMES +1 POSTCARD @ $28.00 / $2.00 ship USA / Foreign $10.00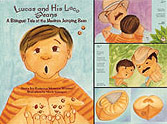 "LUCAS AND HIS LOCO BEANS"
You will love this beautifully illustrated, autographed, 32 page, hardback, bilingual book by author Ramona Moreno Winner. It explains all the mystery and natural wonder of Mexican Jumping Beans. Lucas learns all about the beans and how to care for them from his grandfather. There are jumping bean facts in both English & Spanish. Fun, fascinating & educational, just like the beans!! There's a neat quiz at the end to test your expert knowledge of the truly amazing MEXICAN JUMPING BEANS aka "FRIJOLITOS BRINCADORES"
$16.95 / $2.00 USA / Foreign $10.00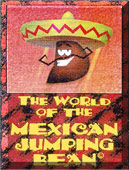 "THE WORLD OF THE MEXICAN JUMPING BEAN"
LIVE VIDEO IN DVD FORMAT OF THE LARVA & BEANS 4 FREE BOXES OF BEANS & TWO GAME CARDS
Learn what causes this small bean to jump. See an open pod with Larva Jumping about!!
Watch the larva spin its silk

See the escape hatch the larva creates before it leaves as a moth

See all this and more in "The World of the Mexican Jumping Bean".
$20.00 / INCLUDES 4 FREE BOXES OF BEANS / 1 GAME CARD