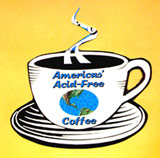 AMERICA'S ONLY 100% ACID FREE coffee
Organically grown in the shade at high altitudes GOURMET coffee
THE HEALTHY ALTERNATIVE
A REVOLUTIONARY, NEW PATENTED PROCESS
FULLY CAFFEINATED GOURMET coffee
YOU WILL LOVE AMERICAS' ONLY, fully caffeinated, ACID FREE coffee. Our unique, patented process breaks the double bonded coffee ACIDS and allows the body to digest them. This helps eliminate the queasy or upset stomach feeling some people get when they drink coffee.
RICH, FULL FLAVORED, HELPS PREVENT UPSET STOMACH, HEART BURN AND ACID REFLUX
USA TODAY, May 19, 2000, quotes Digestive Health & Nutrition Magazine, published by the American Gastroenterological Association, "Is it Heart Burn or a Heart Attack? The New England Journal of Medicine identified acid reflux as a strong risk factor for esophageal cancer... Acid irritation can lead to ulcers, bleeding and hoarseness!"
ENJOY DRINKING coffee ONCE AGAIN
WITHOUT SACRIFICING THE FLAVOR OR THE TASTE!!